Common Types of Custom Boxes: How to Measure a Box?
Published on:
February 2, 2022
By:
Sarah Mills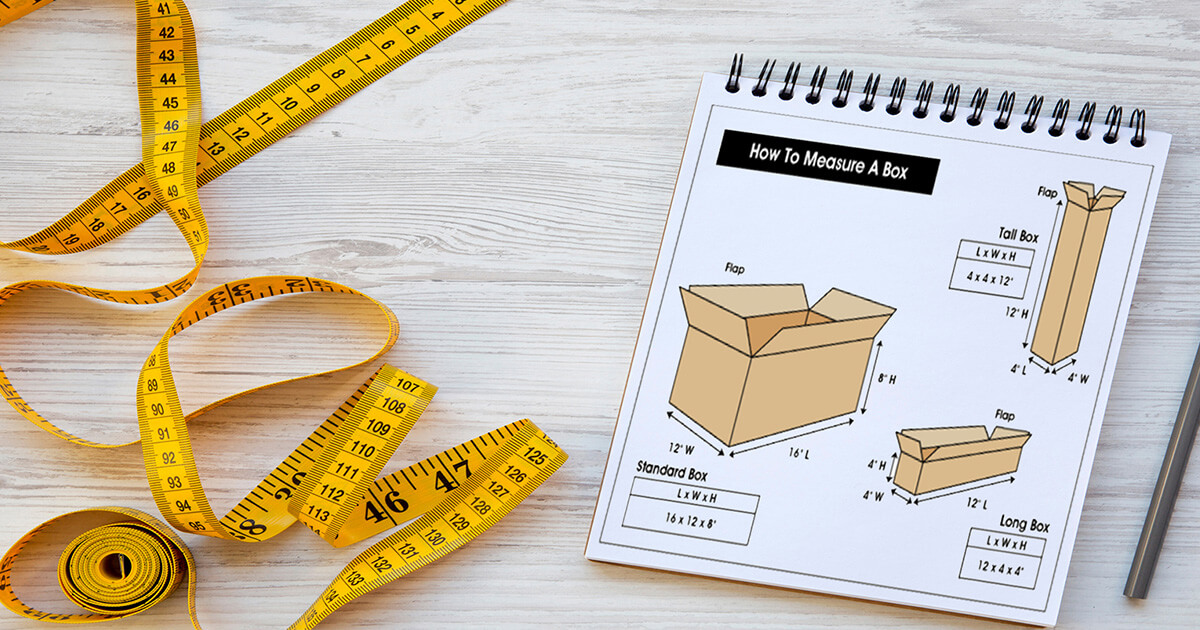 This article will find out the various types of custom boxes and the best way to determine the appropriate packaging size.
Nowadays, you can seed almost anything with a box.
There's a container for almost any shape or size object.
Are you in need of a box to store small consumer items? It's no problem. A bulky object? It is easily transportable with custom boxes. It's too easy.
You can rest assured that if you require to ship your item, there's a shipping box to help you.
Let's take a look at the process of measuring a box and how to select the appropriate size and type of container for your particular packaging requirements.
Box Measurements
In the beginning, you have to make sure that the box size is just right.
When you order custom-made boxes, you must ensure that you're ordering the correct size. Simply estimating your measurements isn't going to do it.
If you're looking for a jumping-off point to measure the size of standard boxes, think about the size that is most commonly used for shipping.
The most important thing to consider when measuring boxes is to remember that it has two dimensions to consider - the outside and the inside.
It would be a shame to be one inch away in order every item you have in the box.
If you measure to make custom boxes, it is recommended to take measurements to the nearest 1/10ths of an inch. This is pretty exact, so make sure you double-check your measurements.
Let's discuss the dimensions of the exterior of the box. This will determine the shipping cost.
Although shipping costs can vary among different services, you can estimate what you could anticipate paying according to their particular box dimensions' guidelines. For example, FedEx and DHL have simple guidelines.
In the end, anything that falls beyond their standard pricing guidelines may be subject to additional cost.
Once you've packed your box, sealed it, and taped it shut, you should measure the exterior to know the box's volume it will take up on your truck. If you're shipping it in huge quantities, the external dimensions will provide an estimate of the number of boxes you can accommodate onto the pallet.
Box Styles
Now, you can comprehend the box sizes that you need and here comes the tricky part.
There are hundreds of different box styles to pick from. I know. I wouldn't have imagined there would be this many options.
Take a moment to think about the various products and items, things like knick-knacks and other things shipped every day.
It is necessary to have several different boxes to transport many other items.
You may have the most beautiful looking box. You may be able to provide the most attractive possible product. But a mismatch between the two could result in a damaged or unsatisfactory customer experience when unboxing.
Everyone doesn't want to do that.
Let's dive into the many possible box styles and types to make sure you've got that winning combination that makes both your customers and your business satisfied.
Right Box for Your Packaging Requirements
The majority of the retail boxes you'll find on the shelves in any shop - from cereals, cosmetics, and milk - are packed in containers that are folding cartons.
Although these are among the most popular and varied boxes available, they're not designed for shipment.
We'll take into consideration shipping needs too. In the discussion of mailing and shipping boxes, the most common box type to be considered will be the corrugated container.
Typically, the box is constructed from three layers: the fiberboard layer (container or linerboard) and a fluted, corrugated medium (a fiberboard with a wavy surface) that gives the box robustness and toughness.
Take a look at the differences between the retail box and a simple shipping box. It's not difficult to understand why this is the preferred choice for fulfilment and shipping.
Corrugated boxes can be utilized for various products ranging from toys to appliances and food items. Even hazardous substances can be shipped through the corrugated container with the appropriate outside thickness and internal packaging material.
Find out why corrugated boxes are best for shipping:
High durability
Lightweight
Shipping costs are relatively low
Reusable
Excellent protection on its own and outstanding when used in conjunction with the void fill
It can be found in almost any shape or size
As we have mentioned before, it's an exhausting task to list the different ways you can make a box shape.
Depending on the location you are looking for, you'll be able to choose between 1,000 to 1,500 choices. This is if your company doesn't require any specific packaging requirements.
We'll focus on the most commonly used box forms to make the information simple. But, unfortunately, it's an enormous amount.
Basic box designs are:
Slotted Cartons
Mailer Boxes
Slotted Containers
These boxes are made from corrugated fiberboard; they have been slotted to make it easy for folding and assembly. This type of box is the most widely-used and most sought-after.
They come with two flaps, each half the size of the box, and connect on the inside. It will require tape to seal the package.
Half-slotted containers (HSC) The HSC is similar to the standard slotted option. However, there's only one flap instead of two flaps.
The Overlap Slotted Container (OSC) This box is similar to the standard slotted box. Still, the two flaps are equal in length, creating an overlapped enclosure (roughly around an inch or one and a half inches larger than the regular slotted containers) instead of the ones joined at the center. The boxes are usually attached with staples, not tape.
The Full Overlap Slotted Container (FOL) As with that of the box with overlap, the flaps are all the same length, but they measure the total size of the container. These boxes are not only safer, but they also can stack more quickly due to a smooth flat bottom when they are closed. The overlap, as well as the complete overlap, cost more to buy.
Mailer Boxes
Before we get to the steps to select the appropriate box size, we'd be putting you in a bad light by not providing the following information on mailers.
Yes, boxes are the most common for sending most of your items to your clients. But, mailers can be an excellent alternative when the product - or the packaging presentation does not need a large box.
Consider items that don't need security boxes (t-shirts) or flat products that could be sucked into boxes.
If you cannot pack many small items in a single box or possess a handful of objects that require safety, a parcel postal mailing box could be the right choice. In addition, they may be less expensive to ship in some instances.
Popular Packaging Options
The contents of the box are just as vital. We're not even talking about the items you send. It's not even directly related.
Infill or void is an essential component of the process of sizing boxes. Inadequately calculating the method, you intend to use to pad and secure the items you are shipping could result in purchasing boxes that are not correctly sized using more materials than necessary or a rise in the cost of packaging and shipping.
The haphazard process of putting together your packaging can result in dissatisfied customers due to the worst product packaging. Making packaging shared on social media is one of the most powerful marketing tools, but don't risk loss by using damaged items.
Let's look at a few of the most well-known choices to fill extra spaces in the package and how they impact the dimensions of the box and the design you pick.
Packaging Papers are undoubtedly the most commonly used material for filling voids; these are excellent for filling extra spaces and general protection of products during shipping. The two significant kinds of paper are kraft and bleached. Because both are more durable forms of paper, neither will be an essential factor in calculating the size of boxes. It is also possible to use recycled paper.
Bubble wrap: A favourite for various brands, bubble wrap is an excellent choice as, like packing paper, it is ideal for filling in gaps and keeping items secure. It can be a hassle in storage. It isn't the most user-friendly choice for packaging. However, it doesn't change your requirements for measuring your boxes.
Custom Inserts: Though they could add to the shipping and packaging costs, custom-designed inserts are ideal if you plan to protect items in the package. It will take additional effort to ensure that you find the correct dimensions and design perfectly. You'll have to consider the item's measurements, how it will fit into the insert, and how it can fit inside the box. However, it's worth the time and effort.
Double Packaging: Like custom inserts, double packaging can create an inside-out package effect. In theory, it can help in protecting the items inside the packaging. However, you'll need to consider securing the smaller box of your product within the larger shipping container. If it's not part of the specific style, this will cost you more and increase the size of your product box and styling concerns.
When deciding on your boxes and filling options, it's always recommended to adhere to environmentally friendly packaging when you can.
Ecommerce is as easy as it may be, can also generate some waste. So when planning your e-commerce packaging requirements, be mindful of the necessary items to protect your products and provide the most enjoyable unboxing experience you can get.
In addition, the use of recyclable packaging could improve your image by demonstrating your care regarding the earth.
Choose a Perfect Packaging
The primary important factor in deciding on the size you require is related to the items you're packing.
In the beginning, you'll need an appropriate size box that accommodates your items. But, first, be aware of how oversized your items are. Yes, this requires more measurement (length, width, and height).
Also, you'll need to choose which method is the most efficient to pack your product into a package.
If you're sending something similar to a rug, you could choose to wrap it in a roll and then place it inside a wide and small box. But, unfortunately, there's no single container that's suitable for similar items.
Likely, you will not be able to fit footballs into a rectangular box. However, you should ensure that the package you choose to use isn't too large. Packaging a single small box in a large one is not sensible. Who would want to ship the product via air? The correct size box will fit snugly to ensure your product isn't moving around inside.
If you can, it's an excellent idea to bundle products in your shipping plan.
If you're shipping multiple items simultaneously, it is possible to fit them all together. However, make sure you cover them separately or use corrugated inserts to keep them from smashing against each other in transit.
Remember that the boxes used for retail don't have the strength to ship on their own since most retail packaging is made up of various cardboard boxes. So, you'll need an outer box that is close-fitting to ship the double-boxing method.
If the item is susceptible to breaking, it will require additional steps to ensure it's secured.
Test several drops to ensure that your products are secure. It's recommended to conduct a test run using your packaging to determine whether it can withstand shipping damage and is safe at the location.
Most shippers suggest at least 2 inches of cushioning around delicate objects. Make sure you follow the requirements of your shipping company. You don't want your insurance claim to be denied because your package was not properly packaged.
Whatever dimension or unusual shape you'll need to deliver to a client, you can be sure there's an appropriate box to arrive all in one go and with fashion.
Like other aspects of your company, you should carefully determine your boxing and shipping requirements before ordering the packaging materials.
It's not only the contents you're shipping that will determine the size of the box and what style you require.
It's also essential to determine the amount of protection that a product requires, regardless of whether you're looking to impress people with your boxing process or wish to keep within your budget.
Therefore, look and locate the appropriate boxes for your particular items. If you need assistance measuring your product to determine the correct size box, the custom packaging experts at PackagingPrinting can assist. Get a complimentary consultation to talk with our highly skilled team of engineers and graphic designers, who will help you navigate the entire process to make the packaging design the highest step.

PackagingPrinting is a UK-based online business that provides bespoke packaging boxes and printed marketing materials to individuals and companies at discounted prices. Contact us by phone or email to get a price quote for your custom projects. You can also send us a message using the form below; we will be happy to assist you.