Custom Chinese Take Out Boxes
We manufacture Chinese take-out boxes with/without a handle to allow your shoppers to carry their lunch/dinner comfortably. These boxes are specially designed for Chinese food such as spring rolls, sesame prawns, fried bread, ribs, crispy duck pancakes, sweet and sour chicken balls, chicken in black bean sauce, chop suey and more. We care about your food business; that's why we print Chinese takeaway boxes as you expect. Don't worry about the prices; we offer wholesale prices for these food boxes to make your purchase easier.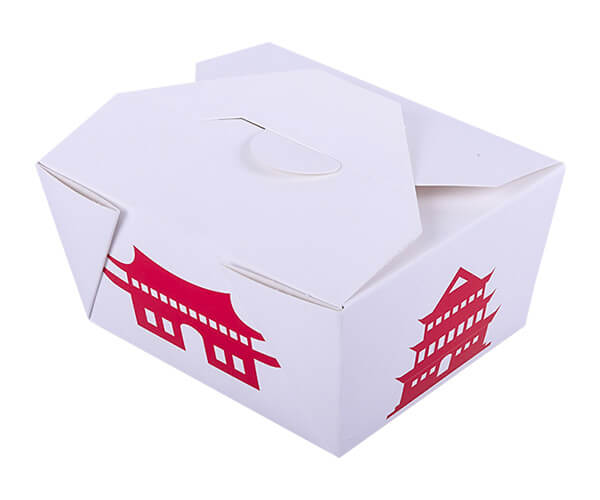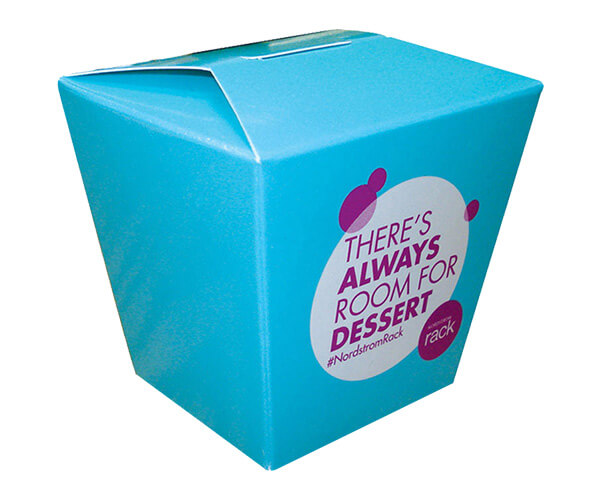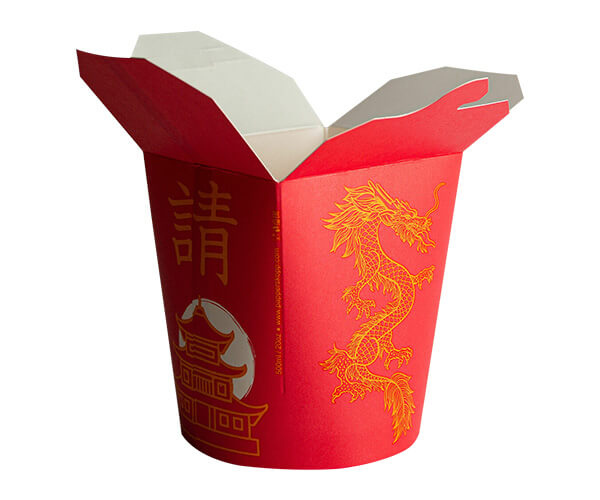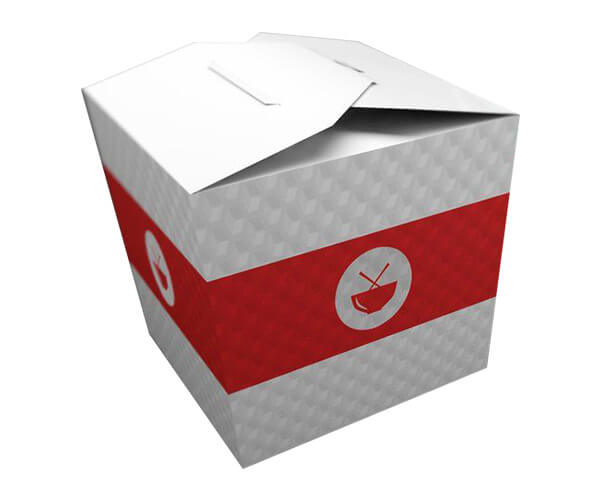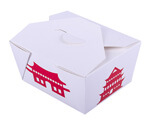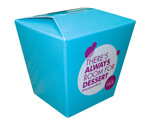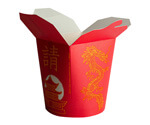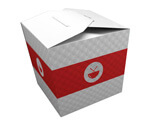 Specifications
Custom Shapes and Sizes
Upload Your Own Artwork
Single/Double-Sided Full-Color Printing
Premium Quality Cardboard, Corrugated and Kraft Paper Material
Ships Flat
Food-Grade Carrier Boxes for Chinese Food
As an expert food packaging box provider, we understand that food packaging should be protected and free from toxins. At PackagingPrinting, you can get printed Chinese food carrier boxes made from food-grade materials. Therefore, you can proudly serve your customers with true peace of mind.
Easy-To-Use Chinese Food Packaging Boxes
The traditional design of these boxes makes them easy to store, carry and use. When you decide to work with us, our graphic designers will be ready to support you. We are pleased to offer you our professional design support at no cost! You can expect the most fantastic food carrier boxes for your restaurants and food outlets.
With these special food boxes, you can expect these consumers to see the value in how the boxes provide you with tasty edibles. Moreover, these boxes give your customers a fun and memorable packaging experience.
Promote Your Food Business
Chinese food is a traditional food that you can find in many restaurants. The ideal way to promote your Chinese food business is to use impressive packaging. Have you ever heard of Chinese take-out boxes? At PackagingPrinting, you can get custom Chinese take-out boxes printed to make that fantastic food presentation.
Food packaging matters significantly in the food business because your food box needs to be attractive enough for consumers to see it. With a deep sea of food brands competing in the market, you must stand out enough to get noticed. With this in mind, PackagingPrinting offers affordable custom Chinese food boxes with your brand's logo.
We can see how most consumers have changed their preferences with the current global situation. From dining in some expensive Chinese restaurants, nowadays, consumers prefer take-out. The reason is apparent, to stay safe and maintain social distancing.
On the other hand, it doesn't mean that your Chinese food business should be shut down. Instead, you can still offer delicious food as exclusive as before by using custom food boxes.
Improve the Visibility of your Chinese Food Brand
As consumers bring your Chinese food home, your boxes will be visible to many people. Therefore, you can expect more customers to come, as these carrier boxes will get your brand name out there in the perfect way possible.
Wouldn't you say this is an ideal opportunity to highlight your food brand? If you think this way, these boxes are something that can take care of you.
Provide Excellent Food Protection with High-Quality Boxes
If you think you could pack your food in a standard take-out box, you should think again. After all, why use standard boxes when you could transform food packaging into branded packaging?
Custom Chinese food box is the best packaging solution to package your food for customer convenience. Moreover, by applying your creative design to them, these boxes will work well in promoting your brand.
Our custom packaging boxes are secure and stackable, featuring an excellent locking frame to keep your items fresh and delicious. In addition, we use the latest digital and offset printing techniques to print custom boxes.
As a Chinese food brand, you decide the ingredients in the food you serve. Consequently, we are cautious about our choices when making our high-quality boxes.
These sturdy Chinese food boxes are made to the highest quality standards. Rigorous quality control, strict adherence to the latest sanitation regulations and continuous testing ensure that we use the safest and most durable materials.
You can make these boxes your brand ambassador by expressing your creativity and applying your own packaging design. In addition, we use exceptional printing innovations to print your brand logo and eye-catching images and print them with fabulous colour combinations.
Order your Chinese Food Box Today!
Whether you run a Chinese restaurant or sell your food online, you need flawless boxes that can withstand the most challenging food service conditions. After all, you certainly wouldn't want your delicious Chinese food to go wrong when it arrives at customers' homes.
All of us at PackagingPrinting make no compromises on quality; you can be relaxed as we use only the best quality packaging materials to produce Chinese take-out boxes with handles. You can choose the most suitable from cardboard, corrugated or kraft. These boxes will keep the delicious Chinese food in the best condition and retain the uniquely delicious taste.
It is the right time to start designing your packaging boxes. Together, we could make attractive food boxes that meet all your business requirements. You must contact us and get your exclusively custom-printed Chinese food boxes with free shipping.