Brown Kraft Rigid Boxes
Many features can be found in custom kraft boxes. These boxes' durability is unique. They are made of rigid brown kraft paper stock, which is light enough to hold heavy objects. You can also print the brand logo on these boxes. A window can be cut to allow the customer to see what is inside. PackagingPrinting can customize these boxes to meet your specific requirements. We are committed to producing bespoke boxes for your personal and business needs.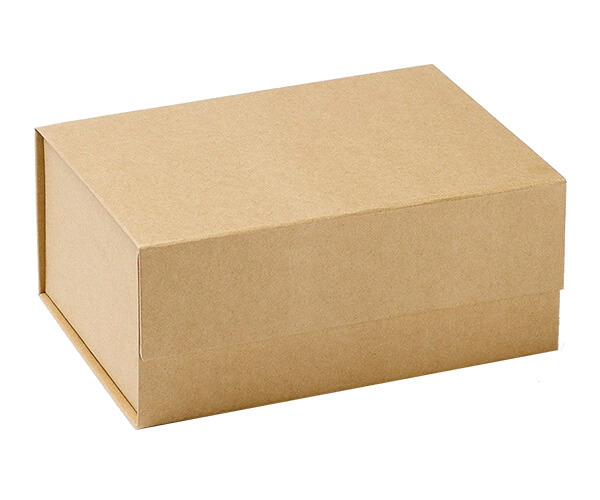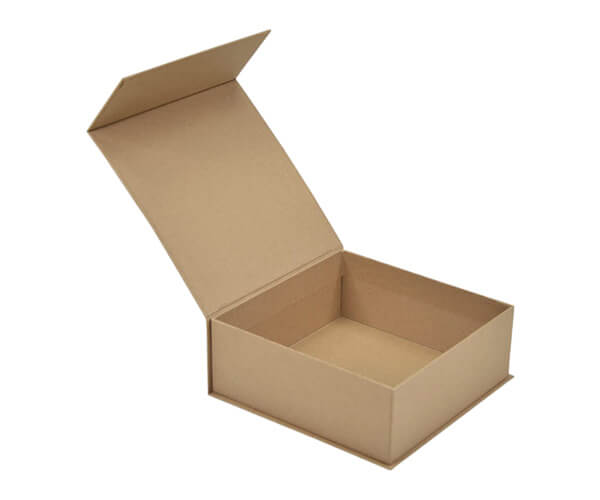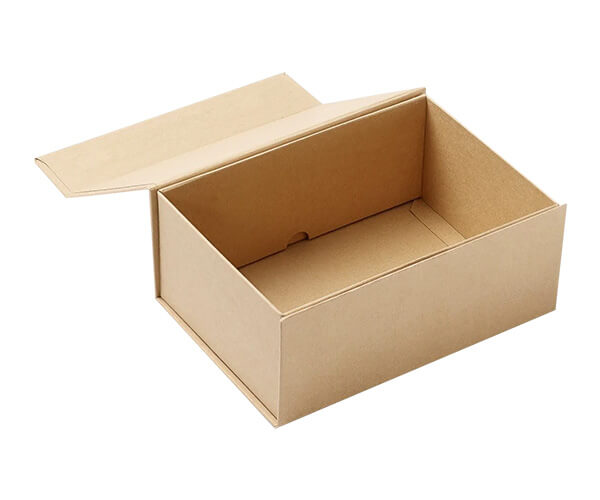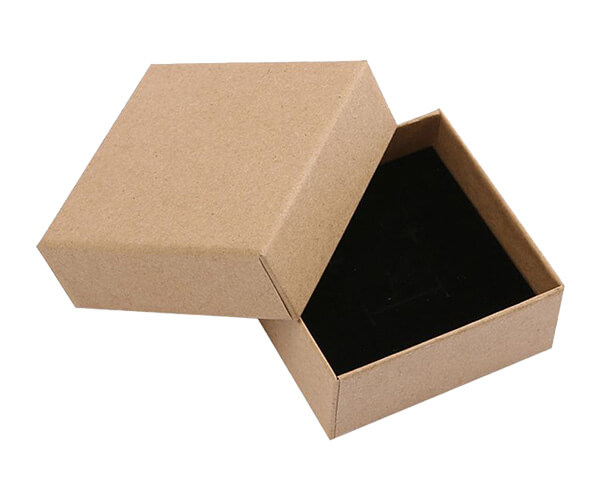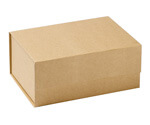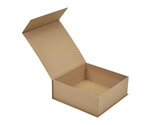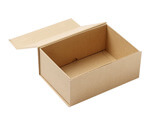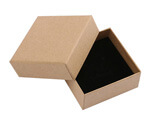 Specifications
Custom shapes and sizes
Upload your own artwork
Single/double-sided full-colour printing
High-Quality sturdy cardboard/chipboard material
Protect and Market Your Unique Products with Custom-Designed Kraft Rigid Boxes
Different industries produce different products and require custom packaging boxes to meet their requirements. This is why the variety of packaging boxes available protects the product and attracts buyers to the retail market. Kraft paper is a trendy paper-based packaging material for many products on the market. Kraft paper is an ecological, biodegradable product that does not pollute the environment. It is made from virgin pulp fibres and is durable.
Custom Kraft rigid boxes are famous for their recycling and reuse. Recycled boxes can be used to create new packaging boxes. It is light, easy to carry for buyers, and ideal for packaging products in many industries.
Increase Brand Value and Awareness with Printed Kraft Rigid Packaging
Kraft boxes can protect your products from external hazards caused by moisture, heat, and weather. By printing custom packaging designs, you can customize rigid kraft boxes to suit your needs and make them more attractive to potential buyers. To make your custom rigid boxes stand out from the rest, you can select your preferred packaging design, colour, style, and printing method. Custom-printed kraft rigid boxes are a great way to attract shoppers by offering different packaging options. This increases brand value and awareness and can increase your customer base in a short period.
Eco-friendly and Sustainable Packaging Option
Brands can use custom kraft box packaging as an eco-friendly and sustainable option. They are also biodegradable and dissolve in the soil after a specific time. They protect nature from pollution; and are easy to recycle, allowing you to reuse them for new packaging. Today's consumers are more environmentally conscious than ever before. In today's highly competitive market, eco-friendly Kraft boxes are a great way to attract customers to your products. Kraft rigid boxes can also be customized to fit different products.
Durable Kraft Product Boxes
Due to the many advantages of product packaging, customized Kraft rigid boxes are a hot trend. PackagingPrinting offers a wide range of durable packaging boxes. An example is the personalized kraft packaging boxes. Thanks to their resistance, they provide complete protection for your products. Since they are not contaminated with toxins or bleaching agents, these custom boxes are ideal for edible products. You can also secure your products by adding extra strength to custom Kraft product boxes or inserts.
Cost-Effective Packaging Solution
Custom Kraft rigid packaging is more cost-effective than other product packaging materials. These boxes protect the product from possible accidents, shocks, or weather effects during transport. The packaging doesn't have to cost too much. PackagingPrinting offers affordable kraft boxes with attractive packaging designs that reflect the nature and preferences of your product.
Grow Your Customer Base with Attractive Packaging Boxes
Kraft rigid boxes can be used in many industries, including pharmaceutical, automotive, food, and gift packaging; these boxes can be customized to meet your requirements. You can make attractive, custom-printed rigid box packaging by choosing different styles and colours. Here are some critical features for custom kraft boxes that will allow you to create high-quality boxes and grow your customer base quickly.
You can make customized Kraft boxes with attractive packaging designs. Your brand's theme and values can be reflected in your custom packaging design. You can also add your logo to the packaging; your brand will stand out in the market with custom kraft box packaging with your logo printing. Custom printing can make your brand stand out in the retail market and be captivating to everyone who sees it. Customers will be attracted to your products through attractive packaging designs. Be sure to measure the dimensions of the custom boxes so that the product will fit in the boxes. This will protect your products from any future damage. PackagingPrinting offers the best quality custom kraft packaging boxes with unique designs for your brand. This will allow you to grow your business faster than your competitors.
Packaging Styles for Natural Brown Kraft Rigid Boxes
Different packaging styles can be used to create custom kraft rigid boxes. These are the main styles, though:
Mailer
Pillow-Shaped
Gable
Tray and Sleeve
Tuck-End
Flip-Top
Two-Piece
One-Piece
For e-commerce businesses, Kraft mailer is a great choice. PackagingPrinting manufactures high-quality, custom-printed kraft mailer boxes with sturdy material that can withstand product wear and tear. These boxes are perfect for gift wrapping, subscription, and product packaging. Printed Kraft mailers are ideal for e-commerce shipping. You can choose any package that suits your needs. You can also choose the packaging shape that best suits your product specifications. PackagingPrinting can help you get the packaging you want, no matter what product you sell.
Stand Out in Retail Market with Kraft Box Packaging
Print your small kraft boxes in four colours using CMYK. You can also decorate the boxes with stickers, ribbons, stamps, and other decorative items. Many printing options, including offset, digital, and UV printing, are available at PackagingPrinting. You can also use eco-friendly inks for your custom-printed boxes, such as water-based or soy-based ink. These features make custom kraft box packaging stand out and be attractive to buyers in the retail market. You can also print your logo and other details on small kraft rigid boxes. Further details include company names, product names, instructions, warnings, and brand stories; these details will help you build your brand authority in a highly competitive market. You can increase your brand awareness in the retail market by using efficiency.
Decorate Your Kraft Packaging
Custom printed kraft rigid packaging can be customized with additional options. You can create custom kraft boxes that include window cut-outs, foil stamps, box dividers, stamping, and spot UV. This will make your boxes more attractive to the public. Customers can see the original product in brown kraft boxes with windows before buying it. Customers who appreciate the brand and see it as caring about their customers will be more likely to purchase custom kraft window boxes. For gift wrapping, you can create custom Kraft boxes. Kraft material is an excellent option for eco-friendly gift wrapping. You can also embellish the colourful Kraft boxes with ribbons and buttons to make them more attractive to your customers.
Why Choose PackagingPrinting for Kraft Rigid Boxes?
Our company is a reliable supplier of custom rigid boxes in the packaging industry. We offer the best quality, durable packaging, and free UK shipping. We use an environmentally friendly aqueous (water-based) coating on the boxes we make instead of gloss coating, which can impact the environment. We deliver custom packaging boxes on time, whether you need eco-friendly cosmetic packaging or sustainable food boxes. We can provide your custom packaging boxes in 8-10 business days. We offer a free custom packaging design service; we do not charge extra for printing setups such as dies and plates. Kraft packaging is affordable and comes with the most competitive prices on the market. Our minimum order quantity is 50 boxes. We are the perfect choice for custom kraft rigid boxes to suit your product packaging needs.
Get wholesale custom kraft rigid packaging in attractive designs to attract your target customers — order these boxes today to get premium quality packaging for all your products.