Custom Kraft Pillow Boxes: Natural Brown Recyclable Pillow-Shaped Packaging
The packaging box can be the main factor in determining the value and visibility of a product. Various packaging options are readily available, and you must choose the best one. For this, a Kraft pillow box is a meaningful and vital product box. Numerous brands have used this ideal box to display their products.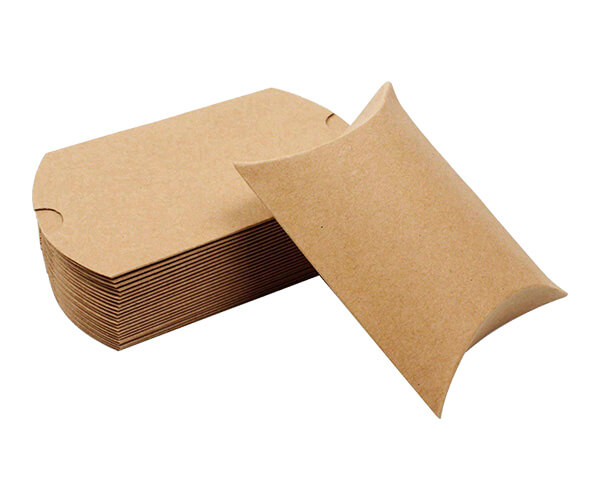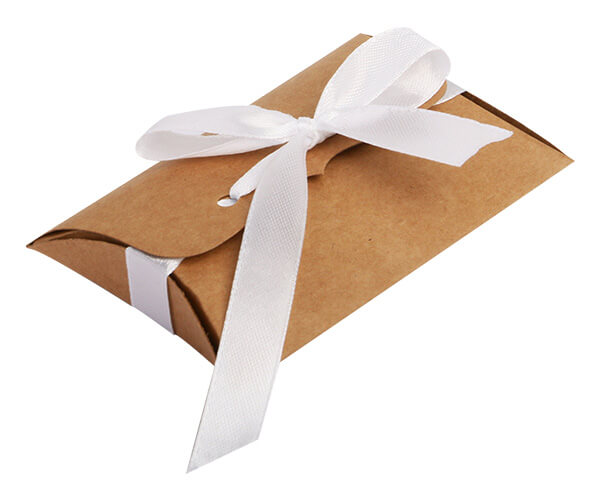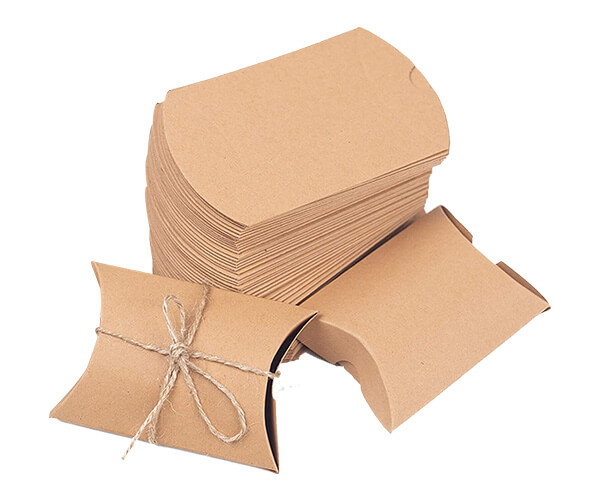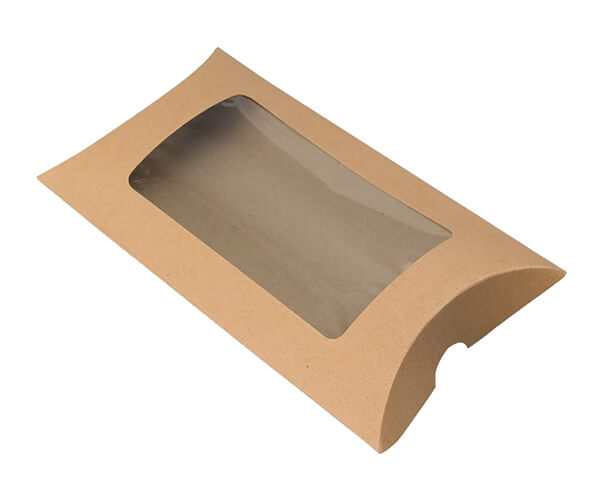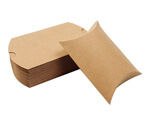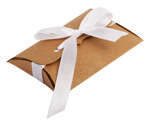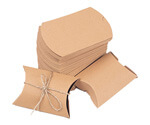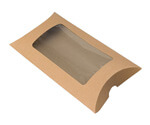 Specifications
Custom Shapes & Sizes
Upload Your Own Artwork
Single/Double-Sided Color Printing
Recyclable Brown Kraft Paper Material
Ships Flat
Bespoke Brown Kraft Pillow-Shaped Packaging
The pillow box is known for its unique curved look, similar to the shape of a pillow. Made from the highest quality kraft material, this custom kraft pillow box is the most incredible way to showcase the product. Accordingly, PackagingPrinting offers this fantastic box to be your best marketing tool.
An attractive kraft pillow box could be a beautiful way to display your products on store shelves or online. The best design and customizable options make the box the preferred choice for market shoppers.
Wholesale Kraft Pillow Boxes
In reality, why should you go for our kraft pillow box even though various great options are available? Apart from the perfect design, there are also some attractive benefits that your business can get by using wholesale kraft pillow-style packaging from PackagingPrinting.
Push Your New Products with Attractive Pillow-Style Kraft Packaging
If you plan to launch new products in the market, you must ensure they are presented distinctively. This will ensure that your products are specific enough to be seen and appreciated. That's why this brown kraft pillow box is a great choice. The innovatively designed kraft pillow box has a unique shape that attracts the attention of the whole world. This fantastic box can not only enhance the appearance of your items. Beyond that, this attractive box will also showcase the quality of your products.
Customize the Pillow Box According to Your Requirements
A Kraft pillow box from PackagingPrinting is ideal for various personalization options. You can make your custom box look elegant with your unique design and fantastic printing styles. In addition, this box has enough space to print your logo, vivid images, and other vital details.
A brand cannot be unique without marketing and promoting its image. Your logo is the character of your brand, and you need to find a way to make it stand out and grab your customers' attention. That way, if your product packaging is unique and appealing to your target audience, they will quickly become familiar with your company name.
Increase Your Sales with Natural Brown Eye-Catchy Packaging
With intense competition in the market, it might become difficult for your company to attract customers and increase sales. This is why you should think of something distinctive to differentiate your product.
An attractive appearance provided by our Kraft pillow boxes is an effective method of attracting customers. You can make your brown packaging box attractive and eye-catching by incorporating various modifications to create an impressive product display. The result is that this box will increase your sales in a short period.
Provide High-Level Protection to Your Unique Products with Our Sturdy and Durable Kraft Packaging
Usually, pillow-shaped packaging is seen as extravagant instead of protective. However, the kraft boxes are made of high-quality natural brown kraft paper, providing excellent assurance for your product.
Although kraft is an eco-friendly material and does not harm the environment, thus, you can create a reliable image that your company can achieve simultaneously. With this beautiful product packaging box, it is possible to increase the sales of your branded products. With striking material and stunning design, our kraft pillow box is the perfect way to grow your business reach.
Packaging boxes are crucial to bringing more value to any item. The more creative and imaginative your packaging is, the more likely it is to grab your audience's attention. A Kraft pillow box is one of the many options for different types of product packaging.
The material promises the user a luxurious and elegant design, especially when you want to start a business and store your items safely. If you select this unique kraft box from us, you are on the right track.
As a reputable packaging and printing service, we know the quality of materials and printing is essential. Our expert graphic designers always maintain the highest quality standards in the packaging boxes.
Order Your Kraft Pillow Boxes from PackagingPrinting Today!
We at PackagingPrinting can serve small and corporate businesses to get the best packaging to promote their products and brands. We have these fantastic custom kraft boxes in a beautiful style, shape, and form with excellent cardboard material.
Another remarkable thing is that you can make the box the size of your item. The result is that these bespoke kraft pillow boxes can create the perfect reuse for your items, making them look glamorous and increasing sales.
When you decide to work with PackagingPrinting, you can creatively customize every part of your packaging design. Our experienced designers will also work with you to provide the best design support.
In addition, we use the most acceptable offset and digital printing methods to create the custom box. You can add your company logo to a kraft pillow box that will enhance your brand image.
We offer free shipping on all custom box orders to demonstrate our commitment to our highly valued customers. Well, what more could you ask for? To succeed in the market, you must not miss the chance to purchase these fantastic top-quality custom kraft pillow boxes.
So place your order now and get custom-printed kraft pillow boxes at wholesale prices only at PackagingPrinting.