Custom Kraft Boxes for Burgers: Recyclable Packaging
The uniquely crafted Kraft burger boxes will adequately present your delicious burgers and other fast food items. Our team of experts can take care of all your food packaging issues. Additionally, PackagingPrinting offers these printed burger boxes to impress your customers.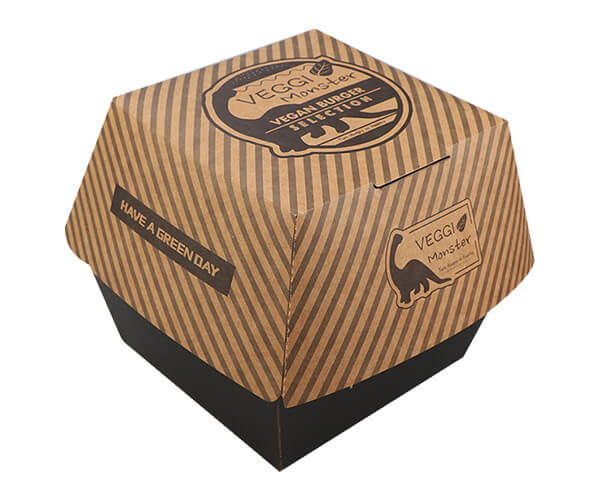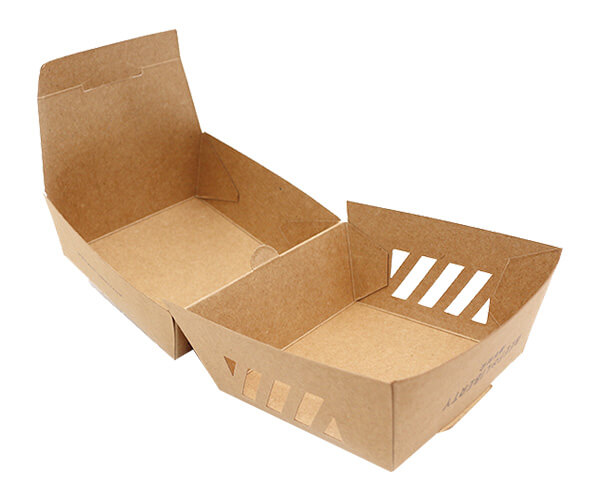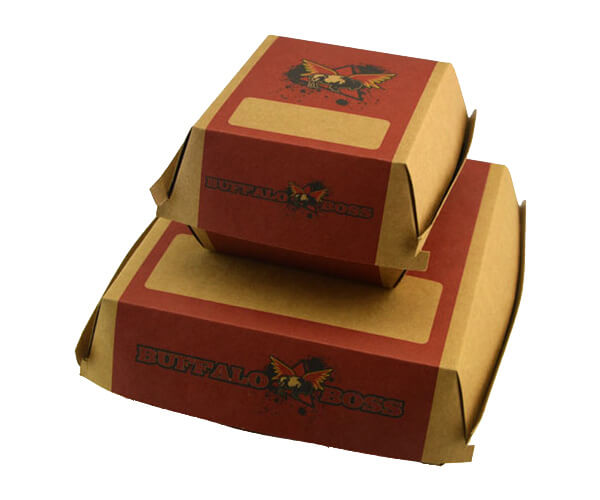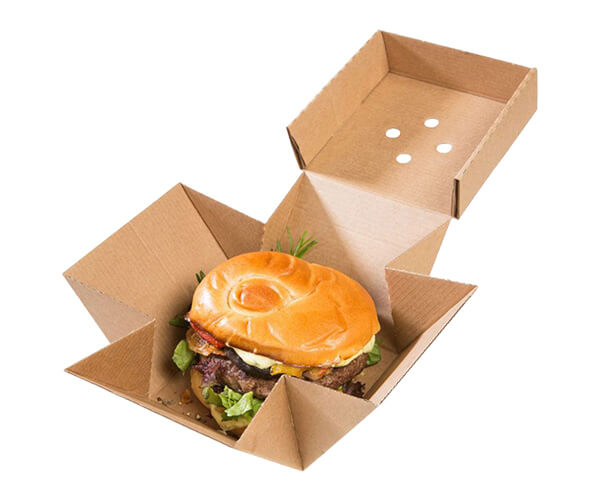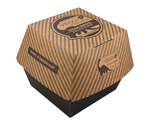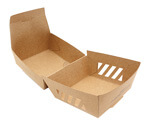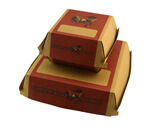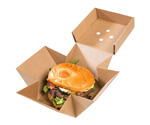 Specifications
Custom Shapes & Sizes
Upload Your Own Artwork
Single/Double-Sided Color Printing
Recyclable Brown Kraft Paper Material
Ships Flat
Bespoke Burger Packaging Made from Natural Brown Kraft Material
In fast food restaurants, burgers are often the most popular choice. However, consumers would prefer their burgers to be perfectly cooked and fresh out of the oven. If you own a fast food restaurant or bakery, packaging boxes will help keep your food fresh.
Custom burger boxes in this context are how you can create a persuasive impact on your customers. Today, providing food in safe packaging is the best way to win customers' hearts. We offer the best custom kraft boxes for burgers with unique styles and designs customized according to your preferences and needs.
Promote Your Fast Food Business with Logo Printed Kraft Burger Boxes
Burgers are among the most popular and tasty fast food products. Being one of the quickest food products, burgers are not difficult to enjoy. You can grab them and enjoy them. Due to the fierce competition in the market and the growing popularity of burgers, several brands are switching to innovative designs where sustainable packaging is most effective.
Companies are looking for the most effective packaging solutions for this delicious food product to help them stay on the lookout for new packaging solutions. As one of the leading food brands, you need the best packaging arrangement to keep your burger safe and retain its unique flavour.
In this context, PackagingPrinting is an optimal decision for you. Food packaging is essential for promoting your brand and growing your business. Our brown burger boxes with logos let customers think of your brand.
Every food brand needs rich and distinctive custom food boxes to propel its business to another stage of success. In addition, it is recommended that you do not disappoint customers by not bringing them back to the quality of your brand. We can help you with that. Custom burger boxes can be personalized with designs, print and vibrant colours. The result is that kraft burger boxes increase the burger's appeal and make it attractive to customers.
Unlimited Possibilities of Burger Box Customizations
Our skilled team of graphic designers has experience in the packaging industry. We will consider your unique needs and considerations to design your hamburger boxes accordingly. These premium boxes can meet all your packaging requirements. In addition, they are the most effective packaging because they are safe and easy to work with.
In addition, we offer complete customization services to all our loyal customers. They can be designed as a burger fiddle or any size you want. We understand the durability of the material used for the sturdy kraft burger boxes.
Another advantage is that these sturdy boxes also work as promotional tools for your company. They are a fantastic tool for reaching a wider audience. Our advanced offset and digital printing techniques can print your company name, brand logo, subject matter, or any other specific image. The subtleties of these prints will reflect the quality of food products with refined packaging.
Design Your Brown Kraft Burger Boxes with Our Packaging Experts
Each item has its own distinct and specific needs. Moreover, the design can be modified as needed for various food products. We know the importance of your company and how important it is to you. We understand that restaurants need a way to keep burgers fresh at precisely controlled temperatures. This is why we create burger packaging according to your preferred specifications. You can browse through our box style page to choose from different options. You can also select multiple finishing and colour printing options for your burger boxes.
You must agree to do your best to be successful in the marketplace. We use high-quality Kraft materials which are recyclable to make premium burger boxes.
With us, you'll be able to identify and print your custom box designs confidently. We understand that the best quality packaging is about materials and feel. We use biodegradable and environmentally friendly Kraft to provide you with the most attractive packaging for your burgers. This is a quick advantage! In addition, the material is 100% recyclable, and our team of experts evaluates its thickness for durability.
PackagingPrinting continues to invent new and creative boxes with premium packaging materials. The package will be made of kraft, making your burger box packaging attractive. The material is durable and best suited to keep your delicious hamburgers safe from dust and insects. These boxes will also help you deliver food products to the customer's door.
In simple terms, our printed kraft burger boxes were designed to help your business succeed and connect with its customers the way it should.
Why Choose Us for Kraft Burger Box Packaging
When you sign up with us, you will receive only the best custom packaging boxes you are looking for. We use and encourage high-tech printing machines that incorporate new methods and procedures to provide our customers with the best printing solutions to satisfy them.
Another advantage is that our fully customizable service allows you to play further with your imagination. Sure, you can use your creativity in the hamburger box packaging. Not sure where to start? Do not worry! Our expert graphic designers are happy to help you with every step of creating your packaging boxes. In addition, we will provide you with professional design assistance for free!
So there is no reason to bother now. PackagingPrinting is your one-stop shop for premium packaging and printing solutions. All you have to do is call us, and our customer support representatives will help you find the best food packaging. We'll deliver these unique kraft burger boxes to your door with free shipping and handling.