Custom Carrier Boxes for Single Beverage Bottle Packaging
Say goodbye to needing a bag to carry your bottles with these containers. We offer various packaging and printing options to ensure super-efficient single-bottle packaging. Our custom cardboard bottle carriers are crafted from high-quality, lightweight materials that are sturdy and safe for delicate products.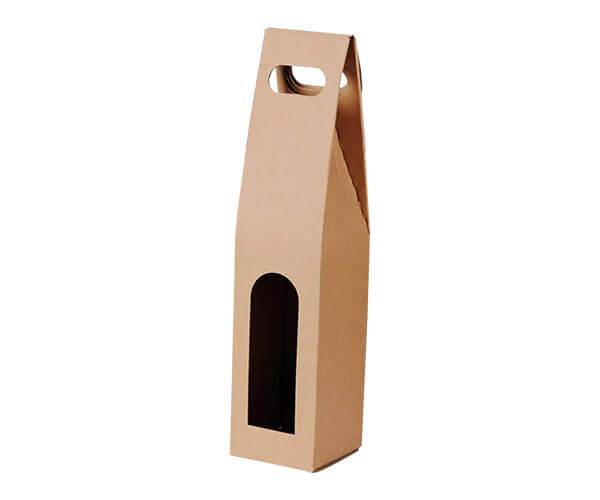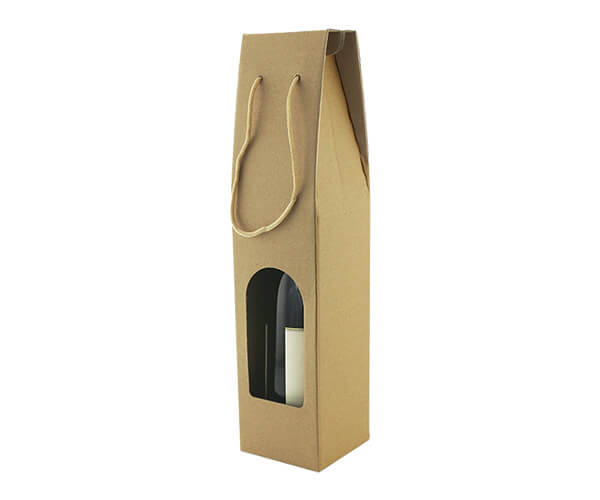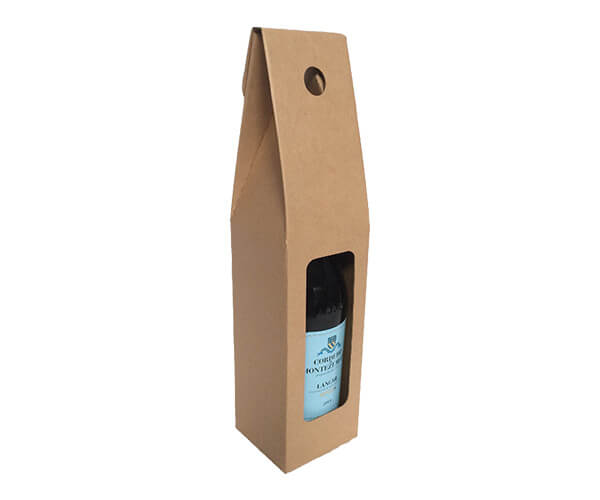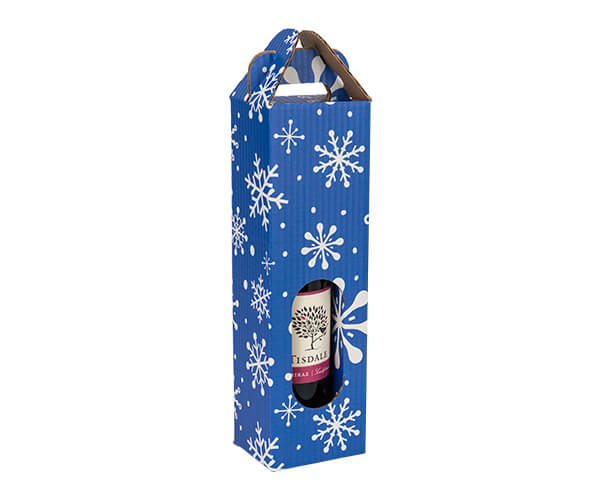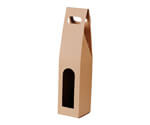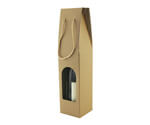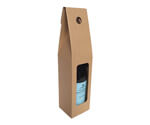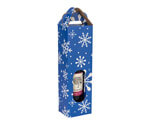 Specifications
Bespoke Shapes and Sizes
Upload Your Own Artwork
Single/Double-Sided Full-Color Printing
Premium Quality Cardboard, Corrugated and Kraft Paper Material
Metallic Foil Printing, Spot UV, Embossing, Debossing, Gloss/Matte/Soft Touch Lamination, Perforation, Scoring, Die-Cut Window and More Special Effects.
Ships Flat
Features of our single bottle carrier boxes.
These carriers have a range of fantastic features, such as their exceptional durability and ability to hold multiple bottles simultaneously. Additionally, they have handles for convenient takeaway.
They have a robust handle for your customers to grasp onto while transporting your bottles.
You can include a delightful small window on these packaging boxes, enabling your customers to see the beverage inside before making a purchase.
The bottom section of each cardboard bottle carrier box is actually glued. This means that you can easily assemble it very quickly.
It has a glossy, sleek finish on a cardboard material, giving it a rather posh appearance.
These cardboard carriers can easily accommodate upto 1500ml bottles.
Countless options to customise your cardboard bottle carriers.
We have consumed various types of beverages throughout our lives. However, we only drink on occasion. Drinkers seek out brands that offer many flavours, as the bottle indicates. This is why beverage companies provide their customers with a diverse selection of flavours in a range of packaging options.
Personalise your bottle boxes to suit your company's requirements. Incorporate discounts and promotions on bottle carriers to entice more customers and boost sales. We offer various options, including sizes, shapes, and designs, to cater to all types of bottles. Additionally, take advantage of our complimentary solutions for creating your own distinctive graphics in any colour on our durable cardboard carriers.
Custom-printed carrier for bottles.
A beverage bottle is the perfect choice for any occasion. Not only is it delightful and fun, but it also adds a touch of sophistication. Plus, we have some excellent packaging options to really make it pop.
Our selection includes holders for a single bottle and packs of four, two, or even six bottles. And if you want to display them in-store, we have eye-catching packaging that will catch some attention. You can customize the holders with fun accessories like flowers, ribbons, or chilled rocks.
Need to transport your bottles? Our cardboard carrier boxes are just what you need. They come in all shapes and sizes, making taking water or soft drinks easy. They're also made of durable cardboard and are super affordable.
No matter where you are in the UK, you can order by phone or through our website. We want to make it easy for you to get the products you love. We offer free shipping and handling within the UK, free graphic design services, and no setup fees. We take pride in providing top-notch customer service to all our customers.
Get yours from PackagingPrinting today!
Do you have any questions, or would you like to place an order for printed single-bottle cardboard carriers? Please don't hesitate to call us on 0800-368-8567 or email us at sales@packagingprinting.co.uk. We would be more than happy to assist you!
We provide wholesale pricing and free shipping within the UK. Furthermore, if you require assistance with packaging design, our skilled designers can offer their services for free.
Moreover, our state-of-the-art printing machines guarantee that your bottle boxes will stand out and attract more potential customers. Trust us to deliver high-quality product boxes within a reasonable timeframe. Give us a chance today!